A Bit of History
In 1995, a Japanese owned pearl farm opened in Halong Bay close to Sung Sot Cave. When the business was doing well and it had proved its success, the farm was sold to new Vietnamese owners. The pearl farm is now owned by Halong Pearl Joint Stock Company.
The pearls grow all year round and the farm has a permanent population of 15 people. In total the farm employs 40 people from all over the country.
Bạn đang xem: ha long bay pearls
The farm is 74 acres and consists of roughly 3000 cages. When visiting the farm you'll be able to see how long it takes for pearls to grow, harvested and extracted. You'll come to find that pearl farming is an excruciatingly slow process.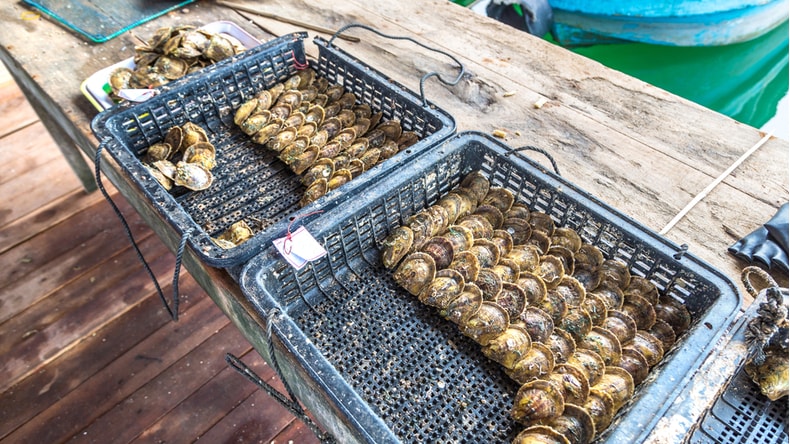 Pearl farming on a summer day.
What Types of Pearls are Cultivated in Halong Bay?
The pearls cultivated in Halong Bay are saltwater pearls. Pearls cultivated in salt water last much longer outside of the shell, as opposed to those cultivated in fresh water which slowly disintegrate over time. On average salt water pearls stay beautiful for hundreds of years compared to a lifespan of around 30 years for their freshwater counterparts.
Pearl farming is a tricky process and depends on factors such as water depth, water quality and water salinity. If all conditions are perfect, it takes a mussel around five years to grow a pearl.
Tham khảo: How to Get from Sapa to Halong Bay: By Bus, Train and Taxi
Whilst touring the Pearl Farm, visitors will learn how pearl cultivation is completed. First you will see the floating rafts where pearls are grown, then the processing rooms where workers retrieve the pearls from their mussel shells and finally the showroom where you can see polished pearls at the end of the cultivation process.
Pearl Facts:
In the wild, a pearl is found in 1 in every 10,000 mussels.
There are three main types of saltwater pearls: Tahitian, South Sea and Akoya.
South Sea pearls are the rarest kind of pearl.
The most famous pearl in the world is called 'La Peregrina', which means 'the incomparable' in Spanish. La Peregrina is 500-years-old and is the size of a large egg.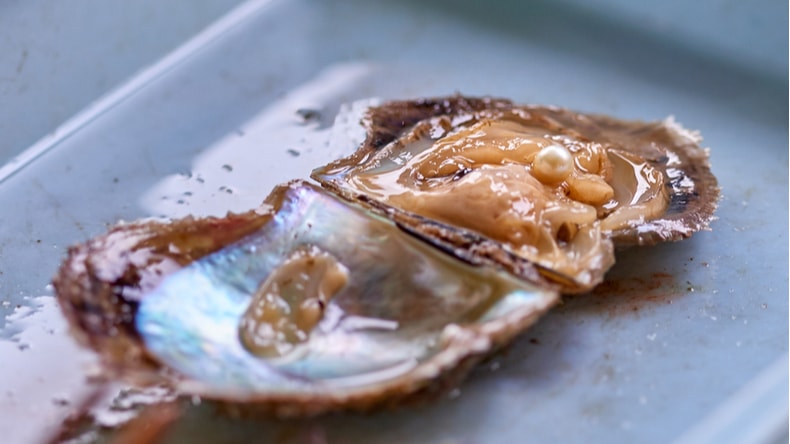 Fresh white pearl (Mussel pearls)
How to Visit and Entrance Fees
A trip to Halong pearl farm is usually only included on the itinerary of cruises that are at least 3 days long. Entry to the farm is 30,000VND ($1.50 USD) per person. If you visit as part of a cruise package, the cost will be included.
If you wish to visit the pearl farm independently the best way would be to commission a local rowing boat to take you to and from the Pearl Farm. If you choose this option, be sure to clearly agree on a rate before you board the boat.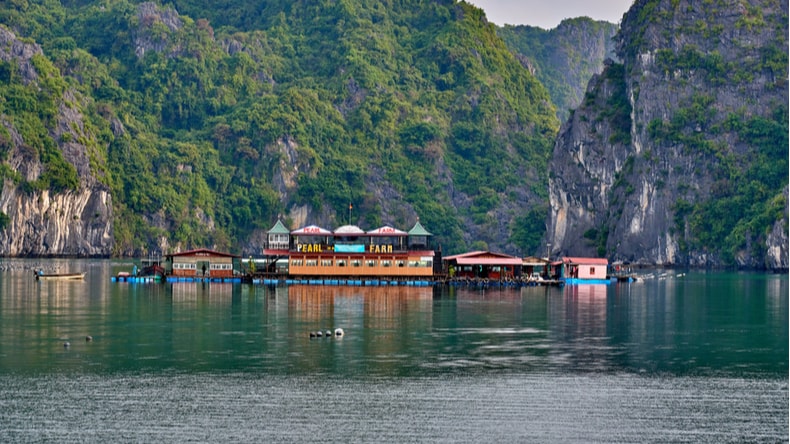 Most cruise tours will stop by one of the floating villages or pearl farms in Halong bay.
When to Visit
As the farm is outside, visitors should be well prepared for the weather, as it can be unpredictable in Vietnam. In the summertime, from June to September visitors should prepare for an extremely hot, wet Southeast Asian summer. However, October to January brings cooler and more temperate weather. Regardless, always check the weather, always bring sunscreen and always bring mosquito repellant.
Where to Buy Pearls in Halong Bay
Xem thêm: Halong Bay Tourist: Useful Information for First-time Visitors 2021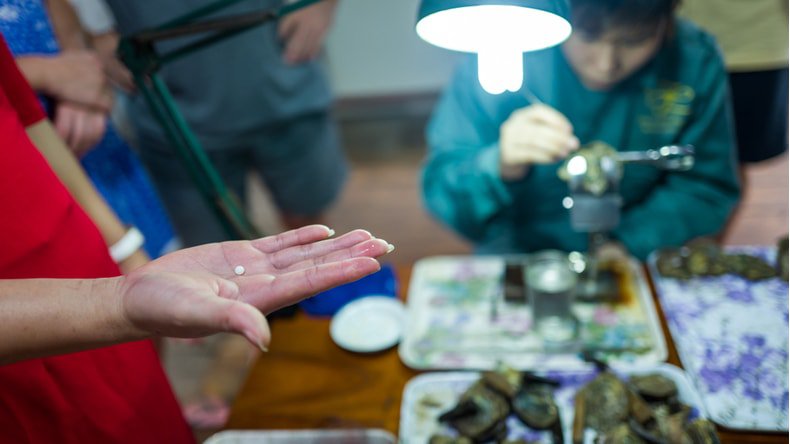 Only in the fishing village do they actually cultivate and harvest the pearls. My Ngoc Center predominantly focuses on processing and the actual manufacturing of pearl products.
At the center, tourists can purchase a great variety of different pearl products. From necklaces, to wrist-lets and rings; all kinds of jewelry can be found at My Ngoc. All skillfully made my master craftsmen, the pearls are formed into truly magnificent and unique pieces of jewelry
Besides being able to buy the jewelry, visitors can also learn about the processing of the raw pearls and the manufacturing of the jewelry. All under the supervision of well trained staff who give you all the room to find out for yourself which piece of jewelry you want to purchase.
Some of the best qualities of Halong pearls as evaluated by experts are high purity, thickness, natural and wonderful natural colors such as gold, glass, pink, cherry and gray.
As of 2017, Halong Bay pearl jewelry are 5 star rated pearls. The pearls meet international standards but they're about 20 to 30% cheaper than the average price elsewhere in the world. Because of this a lot of international tourists come to Halong Bay to purchase pearls.
Last updated: 25 August, 2019
Đọc thêm: Vịnh Hạ Long