As a commune of Cat Hai island district in Hai Phong city, Phu Long mangroves own an intact wild and breathtaking landscape. Phu Long possesses almost all of the most unique natural features of Cat Ba Biosphere Reserve such as mangrove ecosystems, tidal flats, evergreen forests on limestone islands, caves, and lakes,… Therefore, Phu Long is now becoming an attractive community ecotourism destination for tourists in Vietnam vacation.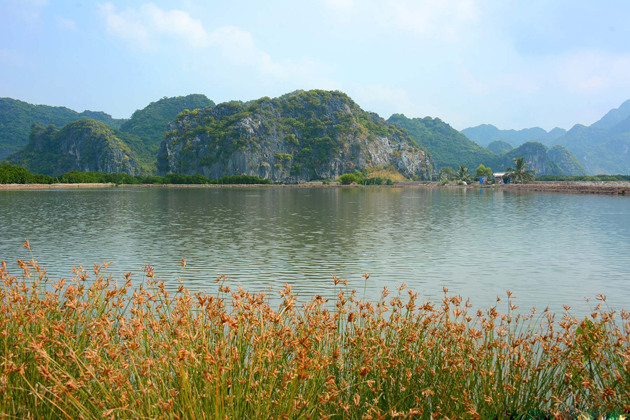 Bạn đang xem: ha long bay mangroves
What is Mangrove Forest?
Table of Contents
Mangrove forest is forest areas composed of many mangrove trees that live in coastal saline waters in the tropics and subtropical regions where other plants are difficult to grow. Most of these areas are exposed when the tide is low and flooded when the tide rises. Due to these harsh conditions, only some mangrove trees with their characteristics can be adapted.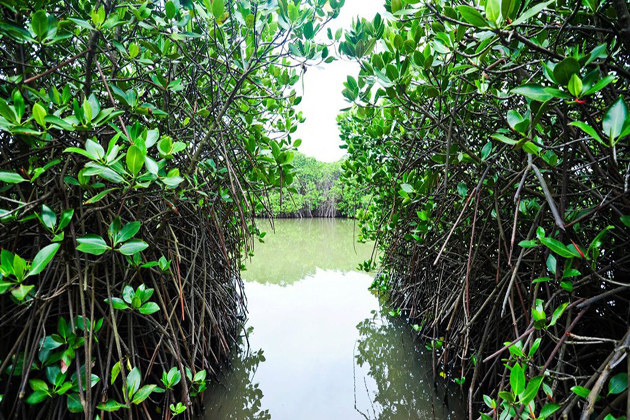 Đọc thêm: Tour Miền Bắc 5N4D: Hà Nội – Sapa – Hạ Long – Chèo Kayak
Exploring the mangrove forest of Phu Long will give visitors a new exciting journey and an actual observation of biodiversity, specific fauna and flora of the mangrove ecosystem.
How to Get to Phu Long Mangroves
In calculating the distance from Hanoi to Phu Long mangroves, the distance from Hanoi to Phu Long is about 160km. Therefore, it is quite easy and quick to set a trip to Phu Long mangroves as an addition to your Hanoi tour.
Visitors can buy tickets for transportation of Hoang Long transport company from Hanoi to Phu Long. The company will pick you up at Luong Yen bus station (1 Nguyen Khoai, Hai Ba Trung district, Hanoi) departing to Hai Phong city and stop at Dinh Vu ferry. After that, visitors take the high-speed boat of Hoang Long for 25 minutes to Cai Vieng wharf (Phu Long commune, Cat Ba island). The total schedule will be around 3 hours.
One way ticket package price: VND 200,000 Departure time from Hanoi: 5.20 am, 7.20 am, 11.20 am, and 1.20 pm
Best Things to Do & See in Phu Long Mangroves
To explore Phu Long mangroves, you will have to take a boat from Cai Vieng wharf along Cai Vieng River and through several limestone mountains, shrimp, crab and fish ponds of the local fishermen.
Thien Long Cave
It takes about 25 minutes to reach the trail through the mangroves leading to the Thien Long cave. Along the entrance to the cave is a forest of Rhizophora, acacia and many species of endemism that can grow well and fast in the mangrove forest.
Xem thêm: Halong Bay – A Brief History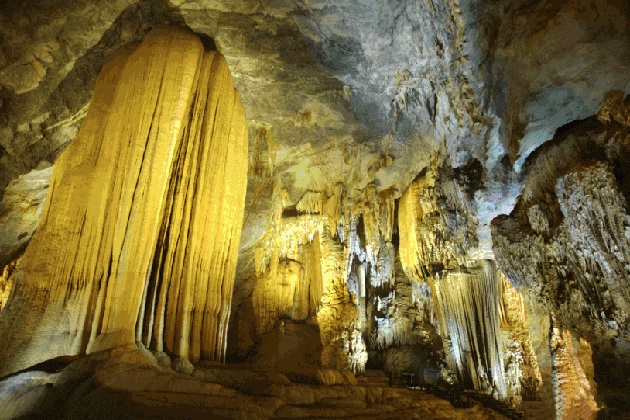 The mysterious Thien Long Cave is the place where ancient bones are kept that has been discovered by the archaeologists. It is also one of the most beautiful caves in the archipelago. Large and high cave with many stalactites and stalagmites makes visitors associate with the amazing beauty of natural art sculptures.
Mr. Thanh's Lagoon
From Thien Long cave, tourists go on a boat for about 10 minutes to reach Mr. Thanh's lagoon. This lagoon is called as Mr. Thanh's lagoon because there is a house hidden deep in the cliffs, where Mr. Thanh and his family have lived for decades for cultivating seafood, embanking dykes, planting trees and mangrove forests that contribute to the creation of Phu Long mangroves now. Therefore, tourists will have a chance to explore and observe the life of local people.
Phu Long Fishing Port & Market
On the way back, tourists will take a journey through a great number of lagoons, mangrove forests, rock island to the fishing port and Phu Long market where there is a small village, several restaurants, and a community ecotourism center organized by the locals. There are full of services from restaurants, internet cafés, motels with many attractive activities such as campfire, cultural exchanges…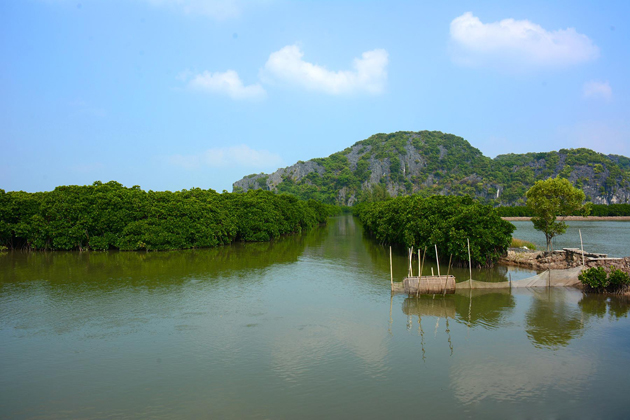 Phu Long Ancient Village
If you have time you can walk from Mr. Thanh's lagoon across a ridge to Ang Dai. In Ang Dai, there is an ancient village called Phu Long, which was once inhabited by indigenous people. In the present, the village has only an old shrine, garden trees, and ancient tombs.